SunsetSets.com is powered by magic!  Rene and Chromatest are on an extended road trip and have decided to catch sunset at as many beautiful places as possible and DJ some nice dance music while we're there.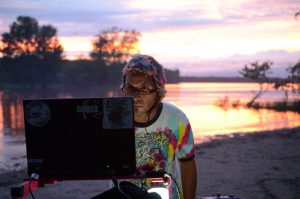 To create the content for SunsetSets.com, we use a mix of technology. Generally we are running one or two cell phones, including one for the data connection to the internet. We also run one or two laptops. Currently we are using a "one-laptop" solution. This has Serato DJ running alongside Open Broadcaster Software using the laptop's integrated camera. This is not ideal as Chromatest often blocks the sunset while interacting with the laptop. We are looking into streaming from a cell phone, but currently don't have the number of http://www.youtube.com/chromatest followers required to enable mobile streaming.
Other equipment used:
Akai AMX Serato controller – It's compact and very portable for mixing tracks
Focusrite Scarlett 2i2 soundcard – Grabs the audio and makes it available for OBS.
Some tiny rechargeable speakers – seriously tiny, each one is about the size of a clementine.
A couple smallish rechargeable LED lights for slight front-lighting.
Unfortunately, places with delicious sunsets often do not have electricity available.  To fix this, we use a deep-cycle battery and a nice sine-wave inverter to create the power needed for an extended DJ set.
Places often also do not have fast enough cellular-data connection rates.  For these locations we are attempting to record the set directly to hard drive for later upload.
Enjoy!